With medieval trumpets blowing, confetti being fired into the air, rounds of applause from the neighbors, and a few tears of sadness from those we left behind we proudly proclaim: WE MOVED! And yes, it sucked. The end result is worth it but… yes! It sucked!
In October of 2020 my girlfriend and I took the big relationship plunge and decided to move in full-time together. At the time our daughter was graduating in December and so we decided to sell my house in Johns Creek, GA, I would then move in with my girlfriend in Chattanooga, TN. This was the beginning of the housing bubble and my home had 8 offers within 24 hours and sold for $6,000 over asking price. I was elated, but the housing market was only in the beginning of its current insanity, which at the time of this writing is still going on. My 999 square foot two bedroom home was packed in boxes and with a small UHaul and some sweat equity from friends and family all my stuff made the journey.
My girlfriend's home, a 2,200 ranch with a finished basement, offered a nice home for my boxes, a lot size of almost a full acre of land, and much more living space for our family. My girlfriend lived in the house for 17 years with very little new furniture shopping along the way. After my divorce, and the ending of another relationship almost all of my furniture was less than 3 years old. We decided to replace most of her furniture with mine. I think it usually goes the other way around where the man tosses all of his stuff. I got lucky.
We considered this move temporary and our vision at the time was to watch our daughter graduate in December, buy a home in January and be moved in around February. Life had other plans. With the exception of furniture and clothing and what my girlfriend would describe as an explosion of my technology invading her home, my stuff remained packed in boxes taking up a large portion of the finished basement for the next 7 months.
After 7 months of house searching, including several lost bidding wars for homes, we found what we consider a beautiful home in Cumming, GA and closed on the purchase of the house at the end of June. The current homeowners needed to continue living in the home through the middle of August due to Covid-related construction delays on the building of their new home, so we walked away from the closing table with a beautiful framed artistic rendering of our home and then drove back to TN.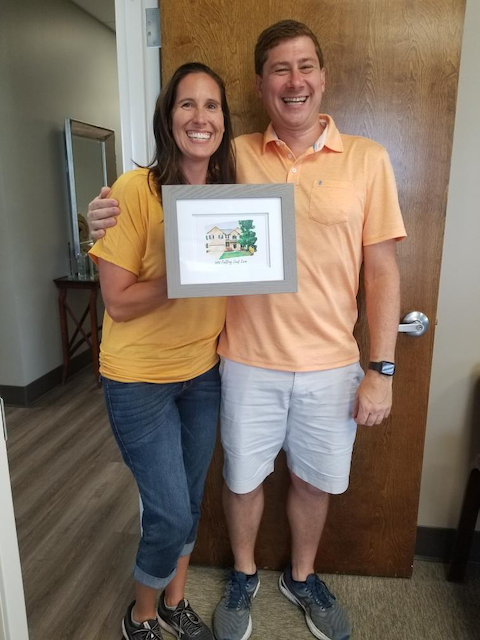 During the month of June after our offer had been accepted and we were working toward the closing date, we began our construction planning. Our first day list of projects, to be completed BEFORE our August 15 move in day is as follows:
Whole home Cat6 and ceiling mounted Wireless Access point wiring
Whole home exterior security camera wiring
New electrical runs for my technology obsession and for charging the Tesla.
Repaint all bedrooms
New carpet for entire home including staircases
Main level gets all new LVT flooring
Guest bathroom gets penny tile and new toilet
New refrigerator for kitchen as current owners took the current one with them
Exterior pressure washing and repainting of trim and siding
Gutting the kitchen
Gutting the owners suite bathroom
Any one of the projects above could be stressful, now imagine doing it BEFORE you are living in the home to answer questions and imagine having 14 working days to make it all happen. We were thankful to have contractors who have been living with pandemic level shipping delays and building material delays for the last year and so we found a new level of flexibility in working through this list of projects. Of tremendous help was that the current owner of the home was going through similar delays in the construction of his new home so he went above and beyond to let our contractors have access to the house whenever things came up. So how did things end up?
We took possession of the house on Saturday August 14. On Sunday August 15 we loaded a 10 foot UHaul full of computer stuff and a few suitcases and I made the move to the new home … without my girlfriend (now fiancee).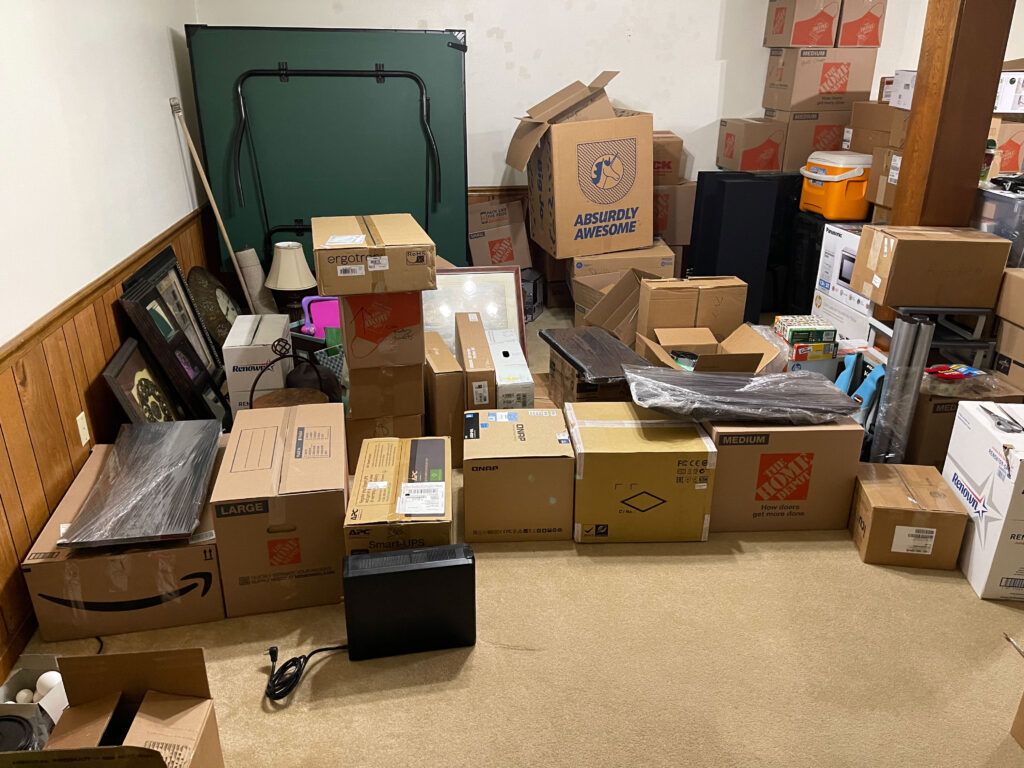 She would be staying in TN working on packing up the house there while the wiring/sheet rock repair/painting/re-carpeting happened and I would be huddled in the basement of the new home monitoring the contractors progress. It's so much easier to move into a home that already has new flooring and carpeting vs moving in, then having to move everything out of rooms to replace the flooring. At least that was the plan.
Our wiring project completed on time after some last minute project rescoping but the sheet rock repair due the electrical runs and wiring went $1,200 over budget. Due to the delays introduced by the more extensive sheet rock repair, we ended up missing our deadline of getting new flooring before moving in. Our deadline was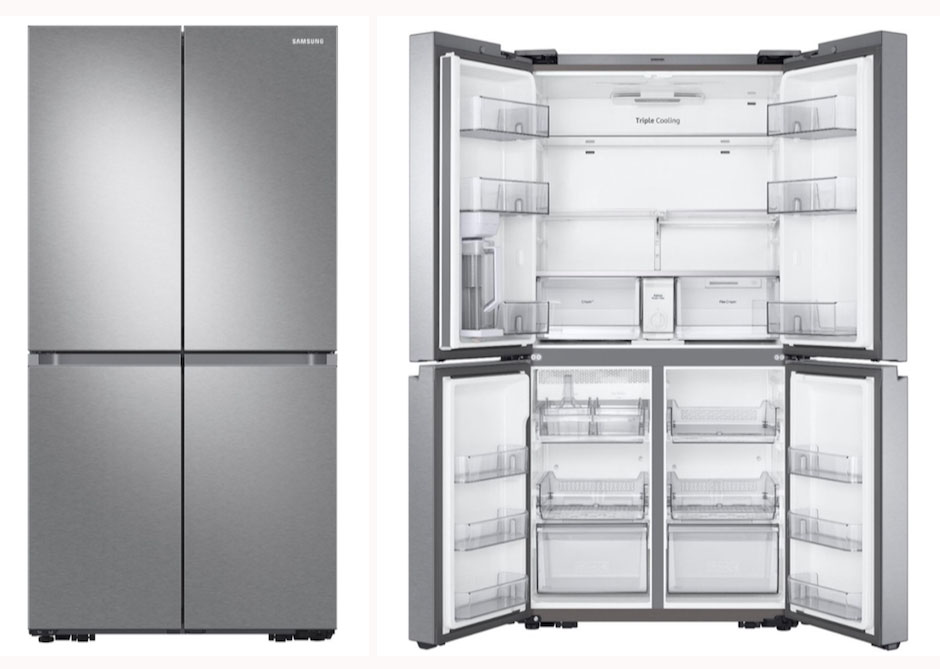 We decided to designate 1 room on the 2nd level to our "heavy furniture storage area" and the movers put all of upstairs bedroom furniture in that room, allowing the contractors to complete the upstairs painting and flooring without worrying about furniture. This also meant we didn't have to move heavy furniture up two flights of stairs after the work was completed. What helped is that we decided to get rid of most of the furniture before the move so there was not a lot of furniture items that needed to make the move. The repercussions of this decision are still being felt as Covid shipping delays have meant that we literally have one sofa, two office chairs, and 4 folding cardboard chairs in our entire house. We're being told when we find something that we can expect 6-12 months delay before we get any furniture. The good news is that after a week of sleeping on a mattress on the floor of our living room we have completed the upstairs and are living in our bedrooms.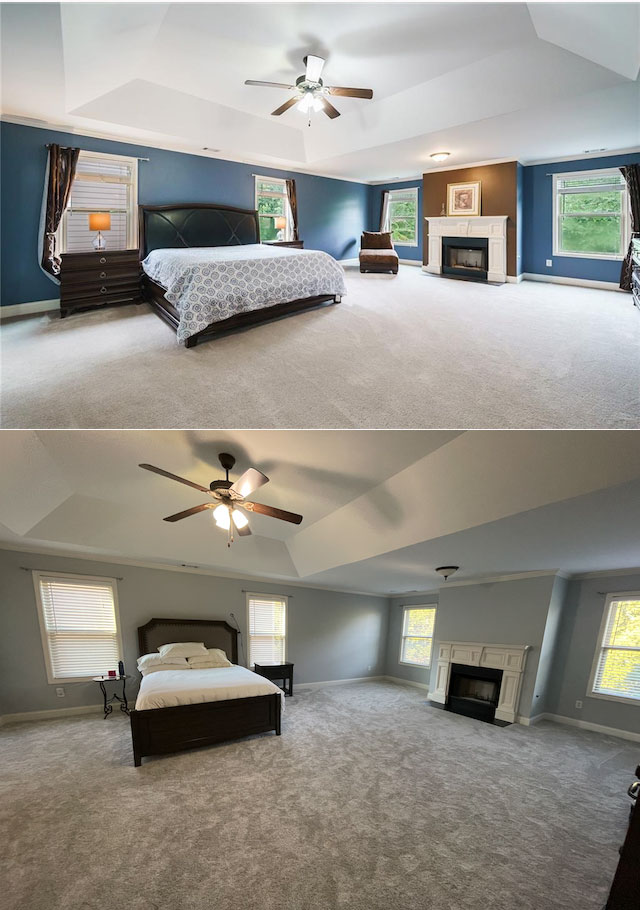 Each of the kids bedrooms were repainted and matching carpet were installed as well. We're very happy with the results: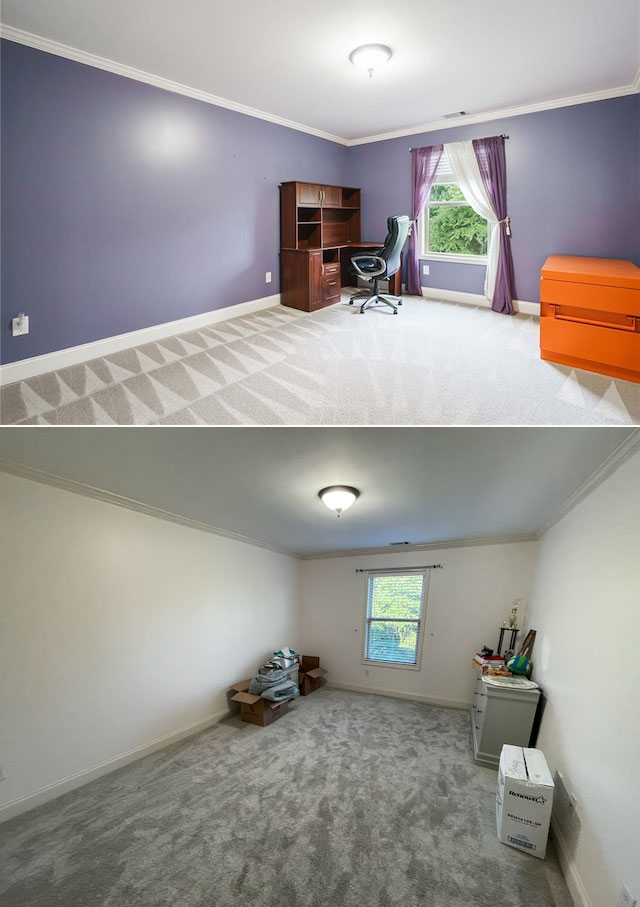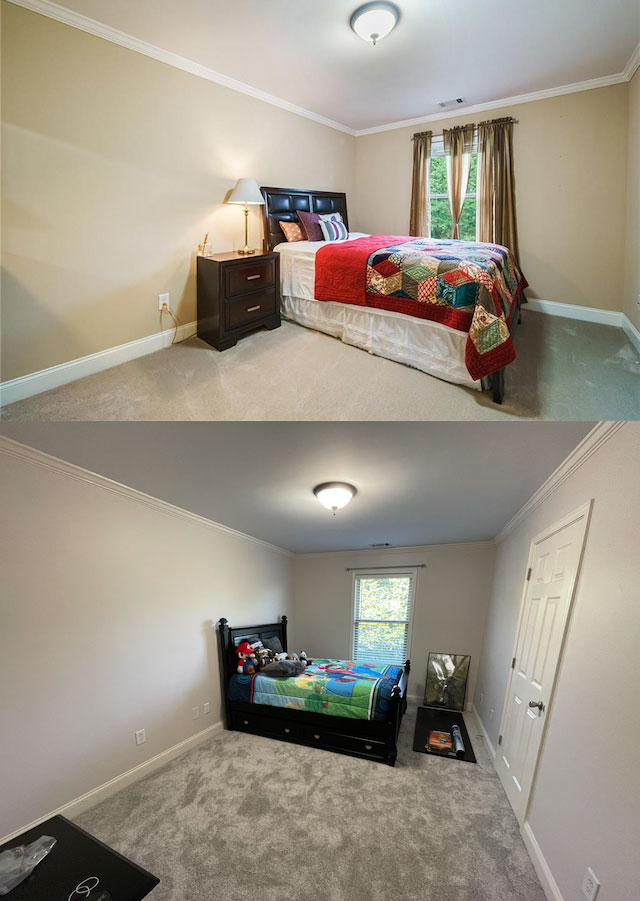 The only projects remaining upstairs are the owners suite closet still needs new carpet and I'm still putting together the Elfa Closet system for my "his" closet.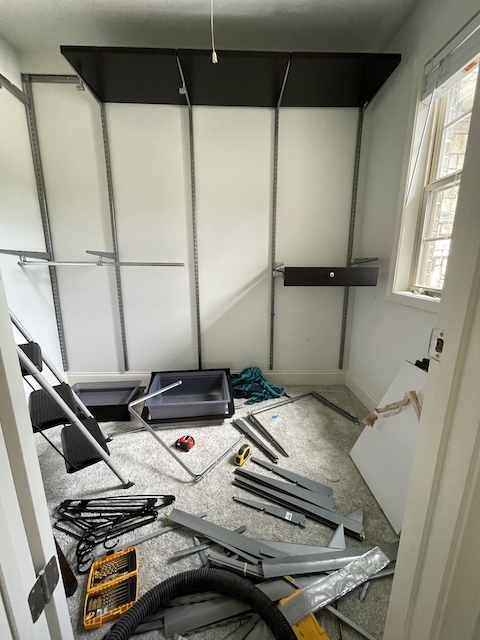 One of our not so welcome surprises came on the big moving day. We rented a 28 foot UHaul and using UHaul's contracting company movinghelp.com we hired 4 people to help us load the UHaul in TN and then hired 4 other people to help unload the truck once we arrived in GA.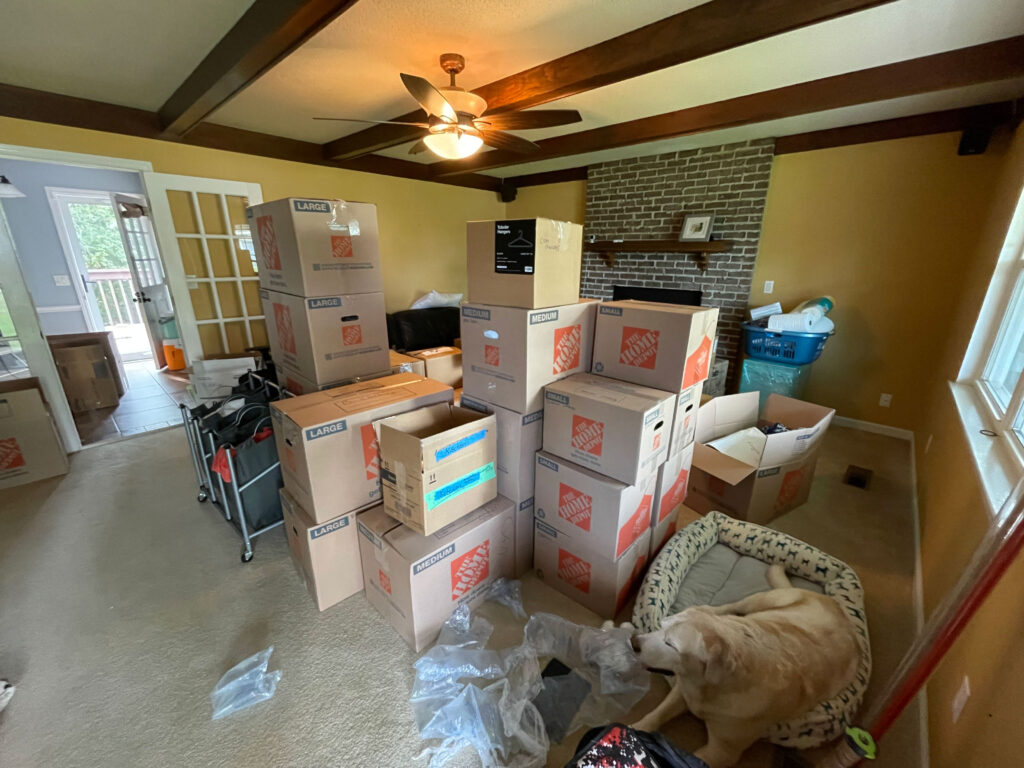 On the day of the move storms were predicted so the idea of moving in the rain certainly didn't inspire happy thoughts, but what really sank the mood is when the 4 people scheduled to arrive in TN never showed up. We were ghosted! In one of life's great ironies my girlfriend's ex-husband (who she originally purchased the house with) showed up to help and he and I got to do most of the heavy lifting. Another cousin of hers showed up to help as well. While our daughter and my girlfriend did their share of hauling as well what should have been a relaxing experience turned into a 3 hour thunderstorm filled experience that made for an experience etched in our memories forever. In Georgia, we coordinated hourly with the moving company named Marietta Movers and the four workers showed up early, ready to work and did an excellent job helping us unload.
One story about the drive down: Cherish's grill made the trip in the UHaul. What we forgot to do was turn off the propane tank before we loaded the truck. At some point during the loading of the grill the 3rd burner switch was turned on and the grill proceeded to leak propane the entire drive. This major mistake on our part was discovered when we opened the truck in GA to the smell of propane and all of the movers jumped back from the truck expecting an explosion. I can still imagine the potential headline in the Atlanta Journal had this trip gone differently: Truck bomb explodes on I-285! In today's top story a truck bomb exploded on I-285… man that would have been terrible. My girlfriend jokes that she's glad she drove down in a different car, taking a different route to the house, or she might have been blown up along with the truck. Thankfully we all survived.
For the home construction projects, specifically the owners suite bathroom, when we ran budget numbers and timing we decided a new bathroom and a new kitchen were simply not in the budget and we decided the kitchen was the more important of the two. While we don't love the bathroom it's still pretty nice so this will be a future project for us.
For the main level it was supposed to get all the flooring replaced, a new kitchen, a new fridge, a new washer and dryer and a new guest bathroom with penny tile. None of that work has started because the new flooring still has not arrived.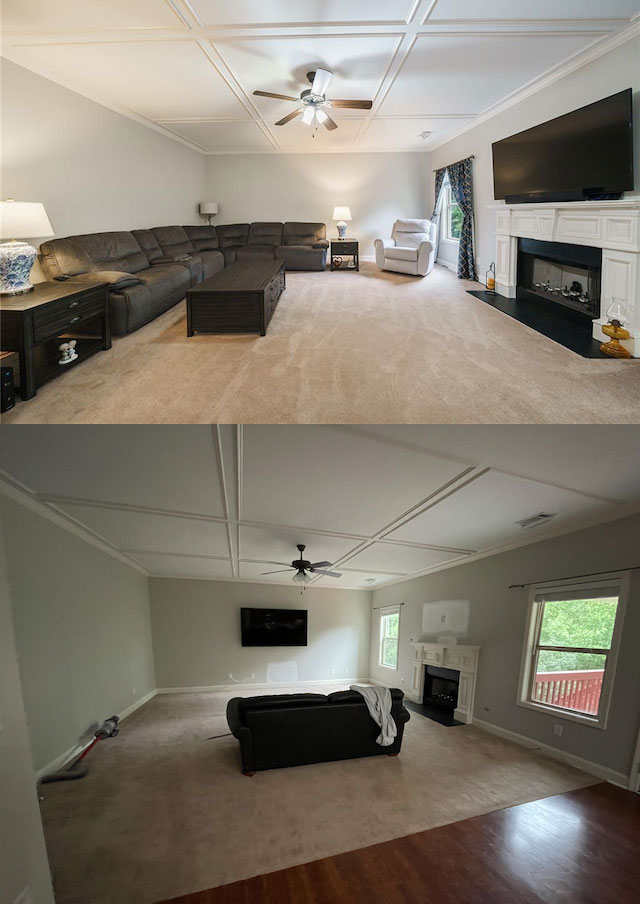 But that's ok because we learned we can't replace flooring in the kitchen until you finish designing and then constructing your new kitchen. So we are still knee deep in kitchen design. I thought kitchen design was going to be as simple as showing a designer a photo of something I liked and saying "go make this for us" but it turns out there is a lot more to this process. I suspect this is mainly because we do not have bags of money to throw at designers. Sigh. If only we did. So the main level continues to be a work in progress. We did pick out an awesome fridge and love it though so that part is fun.
As to the basement, it's my office and a home media room. We decided last minute to go ahead and repaint the entire downstairs including the ceilings. We had considered replacing all the carpet as well but again that lack of bags of money thing came up so we settled on Stanley steamer coming to steam clean and deodorize the current carpets and that's good enough for now.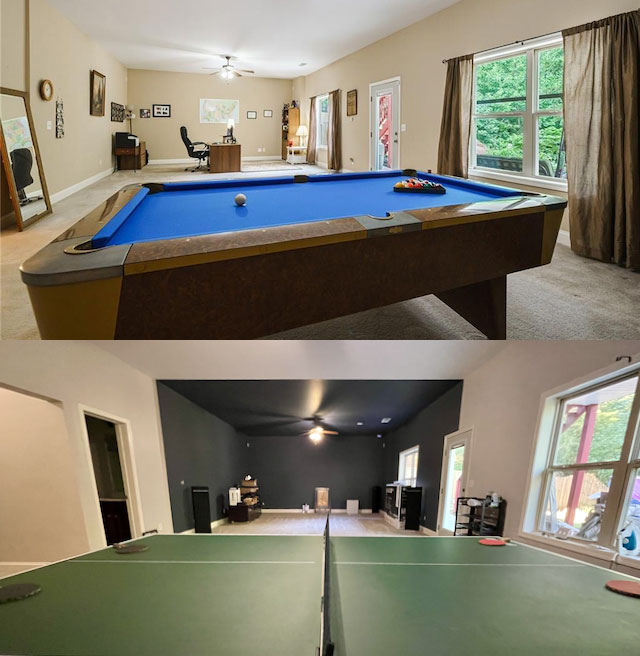 While my office needs decorating, I'm very happy with it. The media room is currently undergoing what I'll call some proof of concepts for us to sort out some details which will be worked out in the coming weeks. I'm excited to share that project when it's complete.
As to the exterior of the home, the picture below shows the rear of the house and the siding. The siding is supposed to be green, not yellow. To the far left in the photo the house two doors down is the green color I'm referring to. The house was constructed in 2008 and has never been pressure washed or re-painted. Our contractor tells us whoever did the original paint job botched the initial base layer and with sun-bleaching and years of no maintenance the end result is this ugly yellow. Ignoring the red decking of course.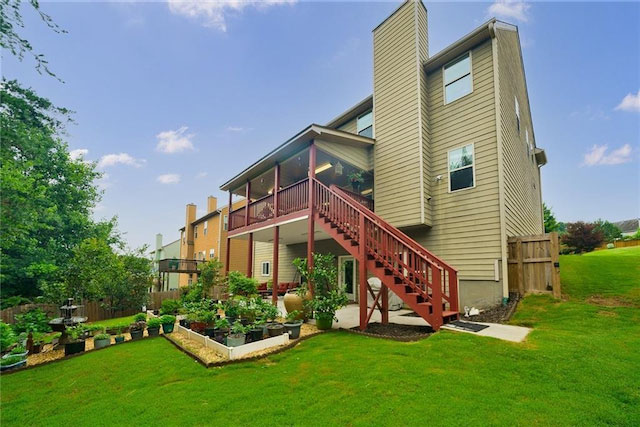 As I'm typing the contractors are pressure washing the house, resealing the current boards, replacing broken/rotten siding and trim and later today should begin the 3 side exterior painting. From this angle if you look at the top of the red deck you will see no gutters were installed, so we have another project to add gutters and a downspout to this portion of the home.
On the front of the house which is brick and stone the trim and columns will get a fresh coat of the existing color. Just the pressure washing has made a world of difference on the stone and brick work and we're thinking that by the end of today the exterior work will be completed.
We're excited to be living in a new home together and look forward to hosting a large housewarming party once all the construction is done.
Update: We finished! Check it out https://www.aftersixcomputers.com/home-improvement-projects-10-months-later/